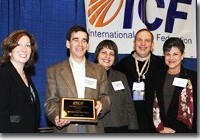 Celeste's book is just so inspiring. We are what we eat and I have learned so many simple steps I can take to eat healthier and surely prevent medical issues in the future. Even with a small city balcony I look forward to planting this spring to grow my own tomatoes and basil. And I'll be hitting the local farmer's markets for fresh organic produce. My body will thank me. And I thank Celeste!
Executive Development, Career Coach and Strategist
I cannot remember when I have been so excited about a book. Celeste's Garden Delights is absolutely brilliant! More importantly, it is essential. This book will make you want to become a gardener, no matter where you live. It is pure inspiration. You have to read this book.
Celeste's Garden Delights will have you looking at food in a whole different perspective. Jam packed with step-by-step tips on sustainability, including growing, preserving, and cooking food that will nurture you, along with some yummy recipes, Celeste Longacre takes you on an agricultural journey that makes eating fun and healthy. Perfect for both neophytes just getting started in a healthier lifestyle and long-time participants in a sustainable existence, Celeste's Garden Delights is the consummate reference book.
It is truly inspiring to read how Celeste and Bob have lived sustainably for 40 years. I appreciate the attention to minerals because they are absolutely necessary to grow healthy plants that will sustain healthy bodies. The book is sustainable in itself! It is densely packed with hundreds of action steps as well as being a very enjoyable read.
Looking for a book to get you started gardening and preserving your own food? You can't do any better than Celeste's Garden Delights. From concise, easy-to-understand instructions on how to grow a wide variety of vegetables to the how-to's of canning, freezing and lacto-fermentation, you will be educated and inspired to plunge into a healthy, sustainable lifestyle.