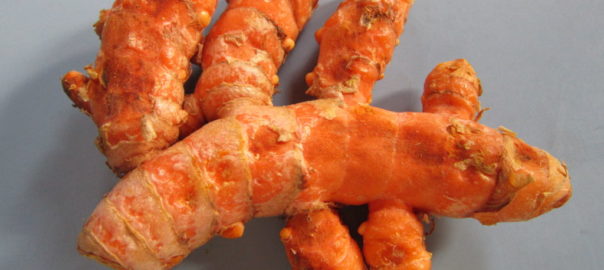 Turmeric has long been used in Ayurvedic medicine. This traditional Indian methodology uses plants for most of its healing and turmeric is often prescribed. Some recent research is now indicating that this particular spice may have been the "gold" given to the Christ child along with myrrh and frankincense by the Wise Men. It is currently being studied for its uses in irritable bowel syndrome, constipation, menstrual cramping, cognitive abilities, depression, heart health and its ability to inhibit a protein that is essential for tumor growth. Yet, something that most agree on is its function as an anti-inflammatory agent. And inflammation is present in a vast majority of diseases and disorders.
Fresh turmeric is available now and it can be found in many health food stores. It resembles ginger as it is a similar root with comparable growing needs. The bright orange roots are currently plump and firm and, while you may see it for sale for many months to come, they dry and shrivel as they age.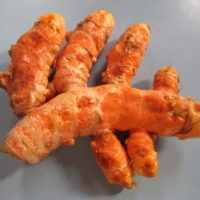 It's best to purchase them now and toss them in the freezer. They need no extra preparation but can be merely placed in a freezer bag.
Turmeric is more bio-available to our bodies if it is prepared in specific ways. One is to ferment it. I like to add fresh (or frozen) turmeric to my fruit kvass. I cut it up as you would a carrot and add it in.
I wasn't adding turmeric when I made the video here, but you can see all of the rest of the steps in the You Tube video on my home page. http://celestelongacre.com/making-fruit-and-beet-kvass-demonstration-by-celeste-longacre/
Another way to make turmeric more available to the body is to heat it in oil and add a dash of black pepper. I like to stir-fry an onion in coconut oil, then add a bit of goose fat and toss in some cut-up baked potatoes. Season with powdered turmeric, paprika and black pepper. Yum!
I have some home grown herbs and edible flowers for sale (great stocking stuffers) here: http://celestelongacre.com/buy-dried-herbs-edible-flowers/
And, my 360 page, $24 Love Signs book is a temporary bargain for only $15 here: http://celestelongacre.com/autographed-copies-love-signs-hardcover-book-available/